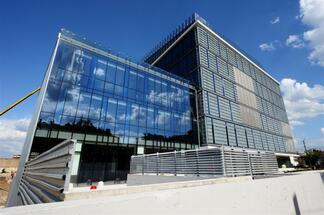 The inauguration coincides with the debut of the second development phase that will deliver 18,000 square meters of leasable area by the second half of 2015.
"Our project is the first office complex that respects international Class A standards, in terms of concept, dimensions, quality, facility, parking spaces and energy efficiency. We have a BREEAM Excellent certificate that attests the project", according to Martin Slabbert, NEPI CEO.
Deloitte, Three Pillar, National Instruments and Yardi are among the project's first tenants. The owners are already in talks with several companies that want to make use of the space.
"Our project allows for 1,000 employees to be moved on one level, in open space. Companies also have expansion space guaranteed given that we will open up the second and third phases of the project in the future. Most companies we deal with have a stipulated clause in their contracts for expansion opportunities. Our expectation is that 30 percent of the second or third phase will already be occupied through existing tenants", according to Oliviu Sandor, project developer.
NEPI and Oliviu Sandor invested EUR 25 million so far in the project.
The Office has been dubbed the largest class A office project outside Bucharest. The project is not the first partnership between NEPI and Sandor. The businessman is also the developer of the City Business Centre office block in Timisoara, which he sold to NEPI in early 2012 for an estimated EUR 90 million. (source: business-review.eu)