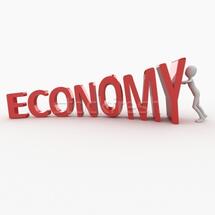 "Economic growth dropped from 3.5 percent in 2013 to 2.4 percent in the first half of the year, as a result of the significant slump in the second quarter, of 1.2 percent growth compared to the same period in the previous year. The growth was supported by private consumption and net exports, while investments continued to negatively influence the GDP. As a result, the 2014 annual growth estimate is 2 percent", according to a report from the European commission published on Tuesday.
The GDP outlook for 2015 has also been revised, to a lesser extent, the European Commission estimating that Romania's economy will increase by 2.4 percent next year, compared to the spring estimate of 2.6 percent.
Private consumption will continue to give a boost to the local economy, as salaries increase and interest rates drop.
Loans will also make a small comeback in 2015, after two years of negative evolution. Exports' contribution to the national economy is expected to drop in the second half of the year and will become negative in the next two years, seeing as imports are expected to increase at a faster rate than exports.
The European Commission also warns the Government that it will have to enforce massive cuts to expenses next year in order to compensate for the drop in revenue from cutting back social contributions, the special building tax and excise taxes. If expenses are not reduced, the deficit will climb to 2.8 percent from 2.1 percent in 2014. (source: business-review.eu)