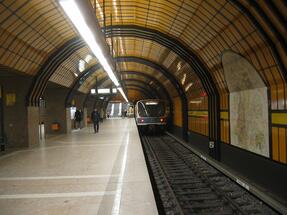 "This project is a good example of the way in which regional European funds can help Romania come back to economic growth. It will contribute to improving mobility for our citizens, ensuring safe and environmentally friendly travel conditions and it will also make Bucharest a more attractive destination for investors", according to Johannes Hagn, Regional Policies Commissioner.
The European Commission says in the press release that the 335,000 people living in Drumul Taberei are the main beneficiaries of this investment.
"We estimate that 3,000 jobs will be created for the construction project and another 264 one it is finished".
The investment will materialize through the POS Transport program. FEDR will supply EUR 409,5 million out of the total EUR 481 million necessary and. The new subway line which will connect downtown Bucharest to the south-western part of the city should be completed by the second quarter of 2016 and the whole project will be finalized by 2020. By that year, Metrorex estimates it will have invested EUR 900 million in Romanian capital's subway system, EUR 600 million of which will come from the EU.
600,000 people ride the subway every day in Bucharest, meaning approximately a third of the city's population.
The story of Drumul Taberei, the neighborhood without a subway
Drumul Taberei is one of the most densely populated neighborhoods in Bucharest and yet does not have access to a subway. Even more surprisingly, in the late middle 70′s when Ceausescu approved the subway project for Bucharest, knowing full well that a city of that size desperately needed a more efficient form of public transport, Drumul Taberei really was the most populated neighborhood in the Romanian capital.
The original designs showed that the underground system would travel on two axes, connecting the north to the sought and east to the west, with a circular line that connected all four end-stations. One of the subway lines was supposed to run from (District 6) Drumul Taberei to Balta Alba (District 3). However, Ceausescu moved the line to Militari, a neighborhood which hadn't even been built yet.
One of the most popular theories for the change, according to Historia.ro, is that Ceausescu despised that particular area because it had been build during the time of his predecessor (Gheorghiu Dej) and also because it was a "bourgeois" neighborhood.
According to Imopedia experts, the lack of subway is the neighborhood's main drawback at the moment. It is a very green area with Park Moghioros. There are 4 markets, two police sections, 14 kindergartens, 11 schools and 6 high schools. Inhabitants have access to two shopping malls: Plaza Romania and Afi Cotroceni.
Prices start at EUR 35,000 for a studio apartment in a building built before 1977. Two room apartments sell for EUR 45,000 – 52,000, and three-room apartments go all the way up to EUR 65,000. Experts are anticipating prices will jump 10 percent if the area gets access to the subway. (source: business-review.eu)