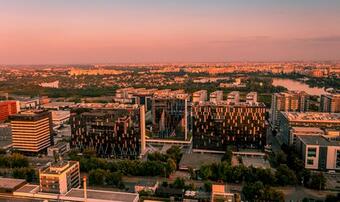 "The space offered by Globalworth is the perfect place for us to extend our operations to better serve our users, both here in Romania and in the whole of Europe. We look forward to a fruitful and long collaboration", stated Alexandru Vasile, Managing Director of Esri Romania.
"We are delighted ESRI has chosen Globalworth Campus as its new headquarters in Bucharest. The combination of strong location, high quality, relaxing areas, the restaurants; all contribute to make the ESRI Romania a unique and vibrant workplace setting. We thank the ESRI team for their trust and wish them al the best in their new endeavors", added Ema Iftimie, Head of Leasing & Customer Care, Globalworth Romania.
"I am particularly pleased to have identified the optimal office space for ESRI, a company whose technology we also use in our digital Location Intelligence tool. The ideal mix offered by the Globalworth Campus A office building facilitated the choice and decision and I am convinced it will contribute greatly to ESRI's continued success in Romania", completed Ileana Mitrache, Senior Consultant Advisory & Transactions Services | Office, CBRE Romania.
With Globalworth Campus, located in Globalworth District, the largest business community in Bucharest, the landlord created a new standard when it comes to responsiveness, well-being, sustainability, and reduced costs of occupancy. A state-of-the-art development, balancing office, retail and other supporting amenities, Globalworth Campus is be the biggest Class "A" office complex in Romania, delivering the very best of office experience.
Furthermore, in 2022, the landlord launched the most technologized and complex conference center in Bucharest: NORD EVENTS CENTER by Globalworth. With an impressive architecture, the center is part of the Globalworth Campus complex to serve the business Globalworth community. With a total surface of 1,850 square metres, the locations accommodates approximately 1,200 people and has the largest indoor fixed installation LED screen in Romania.