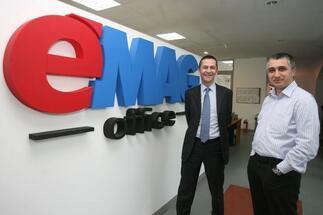 Deloitte Romania was a consultant in the process.
eMag estimates that between 2014- 2021, the center will contribute with EUR 25.8 million to the regional development. The first application developed in the center will be launched in October.
According to Tudor Manea, vice-president and human resources & technology manager, apart from the 200 jobs that will be created, the eMag impact in the economy can be seen in the 500 Romanian providers the company is working with, 10 training companies, media companies and real estate developers for office and logistics spaces.
The project is part of the online retailers strategy to expand in Europe. The eMag platform generated sales of EUR 188 million in 2013 and company officials estimate this year sales will totall EUR 260 million. eMag has already expanded on two European regional markets, in Hungary (www.emag.hu) and Bulgaria (www.emag.bg).
"The expansion on external markets will continue. Our development rate is fast and we will help turn Romania into a regional internet and technology center. We will also have new project proposals that will bring value to the social and economic environment in Romania," said Manea.
In line with the development strategy, Dante International, the company that runs eMag, has decided to set up several companies specialised in acquisitions, marketing online and software development.
In May, Dante set up the eMag IT Research, under which the new software development center specialized in e-commerce will be created. (source: business-review.eu)