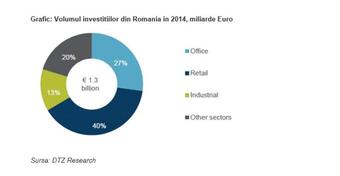 The retail segment was predominant, having attracted investment of 510 million euros, or 40 per cent of the total trade volume of 2014. The most significant transaction was the selling of the Promenada Mall of Bucharest, owned by Raiffeisen Evolution, to the Nepi investment fund for 148 million euros. That was a first on the Romanian investment market as it was the most expensive selling of a shopping mall in Romania, says DTZ Research.
The company also says a new record of 52 billion euros in investment in the retail sector is expected this year in Europe because of improved economic outlooks, increased capital inflows and a strong demand of retail investors.
Nearly half of the investment funds with a strategy to invest in just one real estate sector are focused on retail assets. At the same time, 46 billion euros were invested in 2014 in Europe's retail sector, with the UK and Germany having been the most active markets, while South Europe reported a surge by 135 per cent in trade volume, says DTZ.
DTZ also mentions that investment in business centres in Europe reached a new record high in 2014 in terms of volume, market share and number of transactions.
DTZ is a global provider to occupiers and investors around the world of industry-leading, end-to-end property solutions comprised of leasing agency and brokerage, integrated property and facilities management, capital markets, investment and asset management, valuation, building consultancy and project management.
It manages 3.3 billion square meters and 63 billion US dollars in transaction volume globally on behalf of institutional, government, corporate and private clients. (source: AGERPRES)