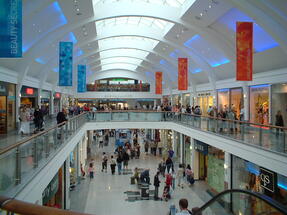 The vacancy rate of prime shopping centers in Romania has dropped under 5 percent in the first half of the year, on downward trend in Bucharest and other cities in the country, fueled by retailers' desire to expand continuously. The difference between prime and secondary retailer projects is significant. Dominant projects have a vacancy rate of under 5 percent, both in Bucharest and in regional hubs, while secondary projects are registering a rate of 25-30 percent. All this being said, secondary projects that lack competitors register vacancy rates of under 10 percent.
In Romania, modern retail space density is maintaining at 138 square meters per 1,000 inhabitants, and by the end of the year DTZ estimates that it will reach 141 square meters. The density in Bucharest is 465 square meters / 1,000 inhabitants, the report shows.
Overall the pipeline figure for 2014 is at the lowest level since 2002. Going forward and analyzing the pipeline for 2015, currently under construction there are three retail projects with a total rentable area of 144,000 sq. m. If this year's pipeline is equally divided between Bucharest and regional cities, 2015's new supply is mostly concentrated in Bucharest – approximately 66 percent.
The largest retail project due to be completed in 2015 is Mega Mall, developed by NEPI. When completed, it will be the largest retail project delivered in Romania since 2010. Another important project due to be delivered next year is Coresi Shopping Center developed by Immochan in Brasov.
In H1 2014 main FMCG retail players opened in total 70 units. Among the hypermarket chain retailers, only Kaufland extended its network. Proximity stores remained the main focus of Carrefour and Mega Image in H1 2014, Mega Image being the leader on this segment with 20 Shop & Go units opened.
In the second half of 2014 two new retail schemes will be adding to Romania's modern retail stock 54,000 sq. m. Carrefour will be opening two hypermarkets reaching a network of 27 in Romania and will launch 3 Supeco units, a concept existing only in Spain and being situated as format between discounters and cash & carry.
International retailers are analyzing the conditions and characteristics of the local market and by the end of the year several new retailers are expected to enter Romania.
In H2 2014 the vacancy rate will continue to decrease, considering that new projects that are going to be delivered in H2 2014 have more than 90 percent occupancy rate. Regarding the prime rental level, by the end of the year no changes are expected. (Source: business-review.eu)