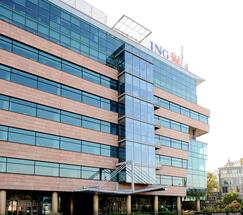 DRUID AI's no-code platform enables enterprises to automate customer and employee communications using AI-driven virtual assistants. Thanks to an award-winning native UiPath connector, DRUID AI brings unique conversational capabilities to RPA attended and unattended bots, adds enhanced cognitive services, and simplifies the completion of automated tasks in a human-like manner. Recently, DRUID AI was ranked as the technology company with the fastest natural growth in Central Europe (CE) over the last three years, according to Deloitte 2021 CE Technology Fast 50 ranking.
"Our business is rapidly expanding and the same our team in Bucharest, therefore we needed a new headquarter, with easy access, good quality of the space and close to the city's point of interest: universities, parks, art and culture. Opera Center is more than an office building, it is a landmark of Bucharest, and I am sure that this new workplace will inspire us to grow further", said Liviu Dragan, CEO of DRUID AI.
DRUID AI's new office is located on the building's 6th floor of Opera Center and measures approximately 600 square meters with a generous terrace with a splendid view to the National Opera House and Dambovita River. DRUID AI employees will have access to the building's amenities, which includes a Dr. Max pharmacy, ING Bank and CEC Bank branches, a French Bakery cafeteria and a 1 Minute! convenience store.
"We welcome DRUID AI in our portfolio, and we are happy to have such a dynamic company, a future unicorn born in Romania, as a tenant in Opera Center. During the years, all our office projects proven to be spaces for growing businesses: we have tenants who doubled their surfaces or more", stated Marian Roman, Managing Director of CA Immo Real Estate Management Romania.
The transaction was assisted by CBRE's advisors, Andrei Gavrilovici, A&T Senior Consultant and Ana Vicoveanu, A&T Consultant, who identified and provided the most suitable real solution for DRUID AI needs that allows the company to focus on its core business.
"DRUID AI is a Romanian company we are proud to associate with! We are enthusiastic to have advised them in this stage of their exponential growth. Delivering the best financial and operational solution for companies with this level of potential is always a challenge, but CA Immo was the perfect match due to the group's professionalism, flexibility, asset location and nearby amenities." added Andrei Gavrilovici, Senior Consultant A&T Services CBRE Romania
Strategically located 50 m from the Eroilor metro station, Opera Center I is overlooking the Dambovita River and the National Opera House. Izvor and Cismigiu parks are situated within 1 km from the office building, while the Botanical Garden and Cotroceni neighborhood, that ranks in Top 20 Europe's coolest neighborhoods, are at 2 km from the office building. The Old Town, Unirii Square and the public administrations with City Hall, Bucharest Court of Appeal and Parliament Palace are less than 3 km away.
Opera Center I comprises around 11,900 sq m of modern office space on 8 levels, having an impressive glass facade, with intricate brickwork extending across all elevations. LEED Gold Certified, Opera Center I is accommodating important companies such as: NN Lease, GSK Consumer HealthCare, Qualitance, Borza & Asociatii, Siemens and DHL Logistics.