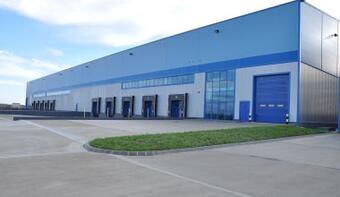 In Bucharest, in 2Q 2014 only one unit was opened, an extension of 3,000 sq. m in Otter Logistics Park in west side of the city. In the country, Bosch completed in May a production unit for electronic parts for cars and a research centre with a total area of 38,000 sq. m within Tetarom III, in Jucu, near Cluj-Napoca.
JLL a also reported in 1Q 2014 the completion of works for two speculative projects – in March, Lear Corporation opened a production unit of 12,000 sq. m for car chairs in Solo Industrial Park, in Leţcani, near Iaşi, and VGP delivered additional 7,200 sq. m in their industrial park from Timişoara.
An important number of projects are in construction, estimated to be delivered by the end of the year. Cluj City Council, the owner of Tetarom industrial parks, started the works for Tetarom IV on 80 ha land in Feleacu. Additional 25,000 sq. m are to be delivered in Ploiesti West Park. TRW Automotive Holdings Corp. plans the opening of an airbags production unit for cars on 4,000 sq. m in Roman. In Timişoara, VGP planned the expansion of the project with 10,000 sq. m.
In 2Q 2014, in Romania were rented approx. 41,000 sq. m of industrial spaces, with 21 pct under the level registered in 2Q 2013. More than 70 pct of the total rentals were represented by the new request, while the rest represented renegotiations and renewals. New contracts were signed in Bucharest, Arad and Timişoara. In Bucharest, in the same period, the total area of the leased industrial spaces was approx. 15,600 sq. m, 38 pct of the total rented area in the country.
The largest transactions in 2Q 2014 were the lease of 9,300 sq. m by Rhenus Logistics in Log Center Timisoara and the rental of 4,000 sq. m by Fashion Days in a former Geodis unit near the Bucharest Ring Road.
'In the following years we expect that the request for warehouse facilities in Bucharest from the on-line retailers (such as Fashion Days) to increase significantly', said JLL's representatives.
The rents of the prime logistics facilities vary from EUR 3.6 to 4 euro/sq. m/month. The light industry rents are between EUR 3.5 and EUR 4.25/sq. m / month. For the large industrial spaces, exceeding 20,000 sq. m, the rents are around EUR 3.5/sq. m/month. The financial incentives volume continued to be significant, especially for the large areas and long rental periods. (source: AGERPRES)