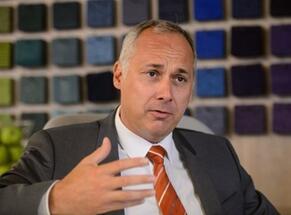 COS was selected among the 13 Authorized Steelcase Dealers in Europe (from a total number of 90 companies) and 46 Authorized dealers around the world (from more than 750 companies), after the company fulfilled the 3 award criteria including reaching sales goals, financial strength and meeting Steelcase dealer co-brand requirements. Therefore, COS is recognized by Steelcase Inc. as an expert in the power of place knowledge and stands ready to tackle the toughest workplace challenges.
Christophe Weller, Managing Partner at COS, said:
"Even if we have a lot of distinct partners and suppliers in the industry, the partnership with Steelcase stands at our foundation. This is why I am tremendously proud of this award, which is an unique distinction for Steelcase dealerships. Even more so, worth mentioning is our talented COS team, which supports Romania's leading organizations by creating great places to work and live in.
We believe in the power of place to transform the way people work, and our customers are proof that great spaces improve business results. We take this opportunity to thank our valued customers for their trust and loyalty demonstrated in the last 18 years of COS on the Romanian market. We are honored to exceed their expectations for years to come."
The partnership between COS and Steelcase provides customers with unparalleled access to comprehensive research, analysis and insights into how we work today. As the industry worldwide leader, Steelcase is constantly engaged in research to ensure our clients stay agile. These insights help organizations achieve a higher level of performance by creating work environments that unlock the promise of their people. (Source: COS)