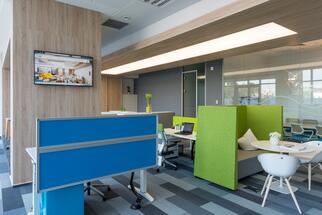 The showroom is located on the ground floor of The Office Cluj-Napoca, one of the newly opened Class A buildings in Transylvania.
Since 2004, COS presence in the Transylvania market has been consistent. The company has provided integrated services - workplace consultancy & design, fit-out, M&E works, project management, office furniture and carpet supply - for large companies, such as Thomsons Online Benefits, Siemens, Emerson, Tenaris, Banca Transilvania, Plexus Oradea, Office Depot, Ing Bank, Garmin and Yardi.
The new COS office's strategy will continue the succesful development of turn-key projects, with the support of the Bucharest headquarter.
"Cluj is one of the most dynamic cities in Romania, with great potential in the services area and current real estate projects under construction. Foreign firms have a choice due to the quality and the significant number of Class A buildings. This is one of the reasons Cluj has been attracting important investments in the last years, besides the competitive and affordable language and technical skills of the local population." says Christophe Weller.
"Through the new office, we are really happy to be able to offer our clients and prospects a place where they can experiment with the latest trends and products in office interior design. Also, we want to build a strong relationship with the local business community that will allow us to constantly grow in the next years." says Marius Mârza, Transylvania Area Manager.
Last year, COS registered a turnover of 16.2 M euro, the best result in 17 years of activity, with an 21% increase comparing to 2013. In 2014, the company was involved in projects such as: Deutshe Bank HQ at Upground Bus Centre, King and Pay U at Opera Centre, Basf and Saint Gobain at Floreasca Bus Park, Abbvie at Lakeview Bldg, Popovici Nitu & Asociatii Corporate Office Solutions SRL at Skytower, Accenture Romania in Bucharest and Timisoara, Tibco Timisoara, Anvis Satu Mare, Garmin Cluj.
Founded in 1997, COS has continuously developed its range of services, becoming the first fully integrated office design & build specialist in Romania. Since foundation, COS holds the sole local authorized dealership of Steelcase, global leader in the office furniture industry.
COS is also representing Interface, worldwide leader in modular carpet.
"COS mission is to convert regular offices into efficient work spaces. We are proud that our solutions help to develop and build up strategic intangible assets of the company. By transforming the ways people work, we create the atmosphere of comfort and convenience at the workplace, and we care to make your office inspiring and the work in it more productive and enjoyable." (Source: COS)