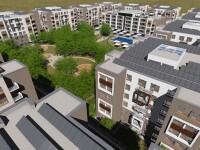 The power produced by the 1,8000 solar panels to be installed in the complex will lead to 0 energy costs for the common areas of the buildings, developers say.
Following an investment of EUR 45 million, the solar powered residential complex will span 61,000 sqm and will include 15 buildings, each having six storeys and a demisol. The 1,000 apartments in the complex (studios, one and two bedrooms) will cover areas between 38.4 sqm for studios and 94 sqm for two bedroom apartments.
Situated in the southern area of Bucharest, near the Gros Market, the project will be developed in stages. The first stage of the project includes the development of four buildings having a total number of 296 apartments, landscaping works and building relaxation areas, projected to end towards the end of December 2015.
Each building will have a green energy system comprising solar panels placed in six rows of 20 panels each and an inverter designed to transform direct current to alternate current. Total production from the 1,800 panels is estimated to reach 600 MWh per year and is projected to cover common area energy needs and generate income by producing green certificates.
"Using photo voltaic panels is a trend that is growing by the day in Romania and it has extended to real estate. The Solar Neighbourhood represents an innovation in housing on the Romanian market and offers future owners an improved standard of life with minimal maintenance costs and no greenhouse gas emissions. The advantage of green buildings, 0 costs for maintenance, the proximity of relaxation areas but also affordable prices with only 5 percent VAT, make this assembly a success, which is why we expect the occupancy rate to grow rapidly," said Andreea Comsa , managing director of Premier Estate Management, the exclusive representative of the project.
Prices for apartments in the complex will range from EUR 30,500 (including VAT) for studios, to EUR 39,000 for one bedrooms and reaching EUR 70,900 for two bedrooms. The project includes parking, guards, a pool, a gym, playgrounds, a supermarket and a 14,000 sqm private park. (source: business-review.eu)