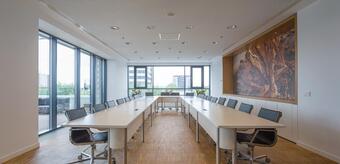 According to Techno Office, one of the main local providers of solutions for office space furnishings, starting with 2014, companies in Romania are willing to invest bigger budgets in their space arrangement and some of them spend up to 350 euro / square meter.
"Even though the budgets have significantly increased in the last years, in 2014, companies regained their courage and we observed a gradual increase of the budgets dedicated to office improvement", said Iuliana Carata, General Manager at Techno Office.
According to her, in the last year, the medium cost for office furnishing per square meter was placed between 80 euro and 350 euro, depending on the chosen products.
"Regarding the most important budgets for this activity, we noticed that companies in the pharmaceutical industry, IT&C and banking are among those who do not compromise when it comes to office design", said Iuliana Carata.
At the same time, Techno Office observes that companies who invest more in office design pay a particular attention to management, reception and lounge areas, as well as conference rooms, where they prefer bigger surfaces, premium finishes and high quality audio-video systems.
The company's spokesperson mentioned that most of the companies choose standard products, while the custom made ones are used as supplements. Usually, custom made products are placed in the reception areas, cafeterias and lounges. Also, clients resort to custom made furniture when it comes to adjusting the size of particular items, such as work tables or storage systems, in order to optimize a specific space or to perfectly fit a product into a certain design theme.
What does office design imply?
"First rule in office design is a functional space that responds to all the required standards: lighting, ventilation and any other aspect that aims at the well being of the employee. Our role, as a furnishing advisor, is to guide the client towards the best solutions that he can afford", Techno Office's spokesperson mentioned.
When it comes to dividing the budget, chairs seem to absorb most of it - almost 45% of the entire budget is spent on these products. The reason behind it is the fact that companies choose ergonomic designs with intuitive mechanisms which, through a proper adjustment based on the user's weight and height, will offer him a balanced support and a significant increase in his comfort level while sitting.
After the chairs, companies will assign circa 30% of their budgets for work stations, receptions and conference tables.
At the opposite end, Techno Office clients will assign only 10% of their budget on storage systems, mainly because these have started to be less used on a daily basis due to the fact that nowadays, companies will rely on digital archiving solutions. Last but not least, sofas, armchairs and lounge areas will take up approximately 15% of the entire budget. 
Launched in 2008, TECHNO OFFICE is a joint venture owned by Iuliana Carata and Marco Magnani. TECHNO OFFICE offers complete office furnishing solutions, from counseling to project implementation.  TECHNO OFFICE has been in a continuous development process and has diversified its products range in order to offer only high quality services, becoming today a complete and complex supplier.
In Romania, the company is the exclusive importer of Haworth products. Moreover, TECHNO OFFICE collaborates with several other brands such as About Office, Styloffice, Sitland, Pedrali, Metalmobil, Luxy, Caimi, Emmegi, Arper. (sursa: Techno Office)