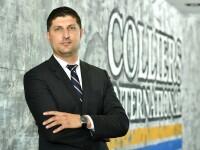 Duica has over 12 years' worth of experience in the industrial market, and has worked both in the operational and sales side.
Prior to joining Colliers International, he was head of leasing and development at P3, a developer and manager of European logistics properties.
"The industrial market has all the prerequisites to grow in the coming years, only now entering a period of maturity, as evidence of recent acquisitions and developments in this sector. Strengthening the industrial spaces consultancy team of Colliers came as a natural step and we intend, with the help of Laurentiu and his experience, for this sector to become one of the main pillars in the growth of the Colliers business", said Ilinca Paun, managing director Colliers International.
Duica has also worked for seven years at FM Logistics, one of the largest logistics providers in Europe and Romania, advancing to the position of commercial manager.
At Colliers International, the new associate director will have to oversee the growth of the industrial department.
In 2016, the stock of industrial space in Bucharest has exceeded 1 million square meters, and it has reached 2.3 million sqm in the whole country, with 170,000 sqm still to be delivered by the end of the year. (source: business-review.eu)