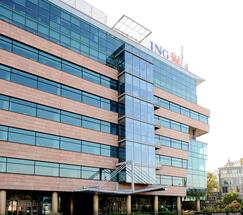 "Opera Center has grown in value, becoming a real landmark and an office sub-market in itself. An important advantage is the development of public infrastructure, especially the recent inauguration of the M5 metro line, which serves over 150,000 inhabitants. From universities and various leisure options, to public administrations and hospitals, all are accessible within a radius of 3 km", said Marian Roman, Managing Director, CA Immo Real Estate Management Romania.
The ING Bank branch covers an area of approximately 400 square meters on the ground floor of the Opera Center I building. The retail area of the building also houses a French Bakery café, a Dr. Max pharmacy and an Inmedio store.
Known as the first modern office building in Bucharest, Opera Center I was delivered in 2001, being considered today one of the most valuable office projects in Bucharest, both in terms of location and property management.
Strategically located 50 meters from Eroilor metro station, Opera Center benefits from a panorama of the Dâmbovița River and the Bucharest National Opera. Izvor and Cismigiu Parks are less than a km away, and the Botanical Garden and the Cotroceni area, which ranks in the Top 20 of the coolest neighborhoods in Europe, are located 2 km from the office building. The Old Center, Unirii Square and the headquarters of public institutions, respectively the City Hall, the Bucharest Court of Appeal and the Parliament Palace are less than 3 km away.
After the inauguration of the M5 metro line, which connects the city center and the Drumul Taberei neighborhood, Opera Center has direct access to 3 of the 5 existing metro lines in Bucharest, M5, M3 and M1.
Opera Center I comprises a total of 11,900 square meters of modern office space spread over eight floors, with an impressive glass facade with complex masonry elements on all sides. LEED Gold certified, Opera Center I hosts important companies such as: NN Lease, Qualitance, Borza & Asociatii, Siemens, GSK Consumer HealthCare and DHL Logistics. (source: CA Immo)