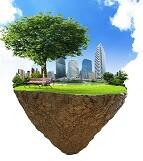 In the first nine months of the year, BuildGreen obtained 17 sustainability certificates, both for new projects and for existing buildings, on behalf of clients such as NEPI (Braila Mall and Galati Shopping City), Aberdeen Asset Management (Iris Titan and Phoenix Tower), Genesis Development (West Gate and Novo Park) and Hornbach Romania.
"While green buildings became a rule in the market, the developers are paying more and more attention to the investment value and sustainable development benefits ratio. In this context, the green certifications are not seen any more as limited to marketing instruments, but they acquire gradually the well-deserved role of management instruments and development efficiency", has declared Răzvan Nica, managing director BuildGreen.
From the total area of more than one million sq. m subject to certification by BuildGreen in the last five years, 60 pct. are represented by office buildings, 30 pct. retail, while the difference of 10 pct is made of logistics and residential properties.
The company currently works for Mulberry Development (owned by the entrepreneur Ovidiu Şandor), Immochan, NEPI, Globalworth, BERD, Aberdeen Asset Management, Colliers International, Portland Trust, S Group Holding, Genesis Development, Padeco, Bog'Art, Strabag and Bluehouse Development. (Source: capital.ro)