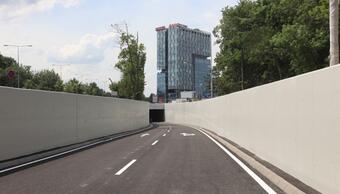 "The passage was inaugurated after a two-month delay, because of the underground networks that were found in the area. There are two entry points and one exit and it has a length of approximately 800 meters. The underpass eases traffic by approximately 30 per cent. A traffic level of 2,000 vehicles per hour is estimated," Bucharest Mayor Sorin Oprescu stated on Sunday at the inauguration.
The pedestrian underpass was also visited on this occasion, an underpass whose walls featured photographs taken by Bucharesters. The underpass will also have two elevators for persons with disabilities.
The Presei Square underpass is located at the intersection of four boulevards with high levels of traffic – the Bucharest-Ploiesti, Kiseleff, Marasti and Poligrafiei boulevards.
The underpass traverses the square along a north-south direction. The Bucharest-Ploiesti and Kiseleff boulevards are linked by two lanes. The underpass offers access to Marasti Boulevard, through a separate lane.
Above-ground traffic will go through an intersection with traffic lights, as before, while pedestrian traffic across the Kiseleff Boulevard will use, apart from the old pedestrian underpass, a new pedestrian underpass that replaces the previous ground-level pedestrian crossing between the Herastrau Park (H Beerhouse) and the public transportation terminal.
Bucharest City Hall representatives claim that the underpass eases traffic on the Kiseleff Boulevard – Arch of Triumph and Marasti Boulevard – Expozitiei Boulevard directions and within the Presei Square intersection by channelling underground the main flow of vehicles travelling on the Fantana Miorita – Marasti Boulevard direction. (source: nineoclock.ro)