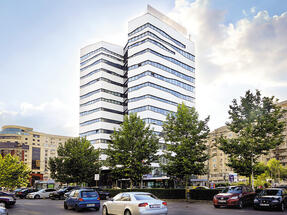 Knight Frank Romania represented Bluehouse in this transaction and also acted as the exclusive leasing agent of Olympia Tower.

Representatives of Bluehouse Capital said that "we are pleased to conclude the sale of Olympia Tower to Yellow Tree, following a successful repositioning. Despite challenging market conditions Olympia Tower has always performed well, due to its high-quality standards and asset management".
The acquisition confirmed yet again Yellow Tree's confidence in the Romanian real estate market:"Olympia Tower comes to consolidate our portfolio with another performant product and we are grateful for the professional collaboration to all the parties involved throughout the process. In 2023, we continue to be on the lookout for mainly office and logistics/industrial sectors", added Cristian Ezri, Chief Investment Officer, Yellow Tree.

"We are thrilled to have consulted on this investment transaction, which started during pandemic and ended still during the conflict in Ukraine, confirming the quality of the product, the interest in office buildings and the very good yields that still attract investors to the Romanian capital. The transaction, which closed this past December, adds up the level of investment volumes to over 1.2 billion EUR, making it a record year for the Romanian market", concluded Horatiu Florescu, Chairman & CEO Knight Frank Romania, Hungary, Bulgaria, Greece, Serbia.
The property is comprised of three underground and thirteen above ground levels, with a total GBA of 14,380 sqm, a total GLA of 10,000 sqm, and 84 parking spaces. It has been developed according to BCO standards with Class A technical specifications and is BREEAM certified.