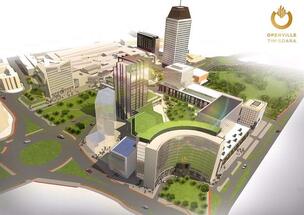 Iulius Management Center Company will invest over EUR 220 million Euros in a mixed-use urban regeneration project that aims to become a landmark for the sustainable development of Timisoara, the group announced on Thursday, July 16. Designed as a "lifestyle center", Openville will bring together office, retail, park and entertainment functions.
This is the largest private real estate investment in western Romania and one of the biggest after the financial crisis in 2008. For Iulius Group, this is the second mixed-use project alongside the Palas Iasi.
"We will create a vibrant space that will transform Timisoara into the cosmopolitan city that its inhabitants, who are so open to multiculturalism, truly deserve. At the same time, the project will develop a regional business pole that will stimulate economic growth and create thousands of jobs," said Iulian Dascălu, president of the Iulius Group.
American architecture and urban planning firm Jerde Company designed the first concept of the Openville Timisoara project, and Romanian architect Radu Mihailescu adapted the concept to current market conditions and the zoning plan in Timisoara. Mihailescu also designed the Palas Iasi mixed-use project.
Openville will have a total built area of 594,000 sqm, and the Iulius Mall shopping center in Timisoara will be an integral part of the project. The project will also have seven class A office buildings with a gross leasable area of over 131,000 sqm, which will include the tallest building in Romania, according to Iulius Group.
"These buildings will make the business pole of the region, catering to the multinational companies that plan to expand their operations and accommodating approximately 13,500 employees," said Iulius Group's representatives.
One of Openville's main attractions in will be the park spanning on 55,000 sqm, which will be the largest in the west of the country. The park will include playgrounds for children, a carrousel, skating rink, water fountains, event plazas, over 1,000 trees and 20,000 shrubs.
The project will also include a fresh market area, four halls for special events, and 3,750 parking spaces.
The construction works will begin this autumn, and the group plans to inaugurate 33,000 sqm of office spaces by the end of 2016. The first development stage will be completed in the last quarter of 2017 and will comprise 80,000 sqm of class A office spaces, the retail area and the park. The second stage will include the development of office spaces up to a total leasable area of 131,000 sqm, depending on the market needs.
Iulius Group owns four shopping malls under the Iulius brand, in Iasi, Timisoara, Cluj and Suceava, and a mixed-use urban ensemble, Palas Iasi. The group also owns office buildings in Iasi and Cluj-Napoca, with a gross leasable surface of over 58,000 sqm, and another 15,000 sqm under construction. (source: Romania-insider.com)