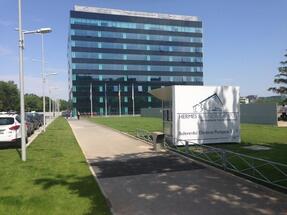 "The perspectives for the office leasing market stay favourable in Romania, considering the economic growth. The initial negotiations for the sale of these buildings are ongoing, even if it is not currently possible to specify the exact moment to be completed", shows the quarterly report of the company.
The complex is situated on Dimitrie Pompeiu Blvd. The first building, fully let, being delivered in March last year, following nearly EUR 25 million investment.
Atenor signed in March a ten years lease with Genpact for 22,000 sq. m in the third building of the complex. The building will have 30,000 sq. m, with Genpact occupying 73 pct. of the area.
"We signed other lease agreements in the third quarter, so the second building's occupancy rate reached 60 pct. This building will be completed in January 2016", the report also says. The investment for the second building, of 24,000 sq. m, is estimated at EUR 30 million.
The total investment in Hermes Business Campus reaches EUR 90 million.
In spring, Atenor was granted by Garanti Bank an EUR 30 million loan for the refinancing of the first building within Hermes Business Campus and for the financing of the second building's construction.
Belgian group Atenor started the construction of the complex in 2011, the development being financed by the funds obtained through a bond issue of EUR 60 million.
The office area on Di­mi­trie Pompeiu Blvd., situated around Pipera metro station, is currently competing for tenants with Barbu Văcărescu-Floreasca area, where most of the office projects in construction in Bucharest are situated.
The office projects transaction market was dominated in recent years by Globalworth, a company controlled by the Greek businessman Ioannis Papalekas, which made three acquisitions only in the last year, two in Barbu-Văcărescu  area (Nusco Tower and Green Court) and one in Piața Presei (Unicredit Tower).
This year the German investment fund GLL also entered the market. The fund, which owned the office building Charlles de Gaulle Plaza near Herăstrău, also bought Victoria Center from investment fund Bluehouse and Floreasca Park from Portland Trust, transactions of nearly EUR 120 million. (source: profit.ro)