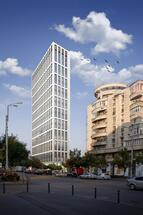 The money comes from the investor's own equity and Weerts says he has the necessary funds to deliver the whole project. Nevertheless, he also doesn't rule out the option to take out a loan.
The project was initially announced in 2013 and construction now starts after last year Weerts sold a warehouse center near Deva to CTP for an estimated EUR 10 million. Weerts says the timing to start the project also has to do with the growth of the local market.
"I believe in Romania and the huge room for growth. After some years of analyzing the market, we want to seize the moment and now is the time we focused on developing a destination project in the center of the city," explained Weerts.
Located on the Corneliu Coposu Boulevard, Unirii View will be a class A office building, polygon shaped, with 17 upper office floors, a ground floor with retail area offering services and amenities for tenants, as well as three underground parking levels.The building will have 1,131 sqm gross leasable area on each level.
The developer hasn't yet secured any prelease, but about 40 percent of the building's GLA is presently under negotiation, says Andreea Paun from Griffes which is in charge for the leasing.
The project was initially announced in 2013 when Weerts had partnered with Romanian businessman Costel Casuneanu. He bought the land from Casuneanu some eight years ago, but the Romanian businessman later dropped out of the partnership.
This is not the first real estate investment the Belgian businessman has made in Romania. Last year he sold a warehouse center near Deva – Deva Logistics Park – to CTP which was originally built for French retailer Carrefour.
Law firm PNSA is advising Yves Weerts on the legal side related to the development of Unirii View. (source: business-review.eu)