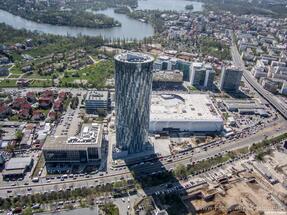 Raiffeisen Evolution developed Sky Tower, the tallest building in Romania, and the shopping center Promenada, sold last year to the investment fund NEPI for EUR 150 million.
"We enter the Romanian market with this experienced team that has already developed the Sky Tower and the Promenada Mall in Bucharest. This is why I am certain that we will also develop successful projects in Romania – as we are doing it steadily in Germany and Austria", said Thomas Birtel, Strabag's CEO.
The group's representatives see great potential in Romania's real estate market. Strabag is already one of the biggest construction companies in Romania. Last year, its local construction business was close to EUR 170 million.
Strabag holds a 20% stake in Raiffeisen Evolution, together with Raiffeisen Zentralbank Österreich AG (RZB) (40%), Raiffeisen-Holding Niederösterreich-Wien Reg. Gen (20%) and UNIQA Versicherungen AG (20%). Strabag is already active in real estate developments in Austria and Germany. (source: Romania-insider.com)