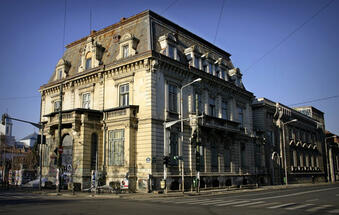 This is the second project of this type recently in Bucharest, following Aviatorilor 8, an office building integrating a historical house in Bucharest's Victoriei Square, Oromolu House, developed by NEPI.
Atenor bought two plots of land with a total area of 5,000 square metres situated at the crossroad between two major arteries in Bucharest, Calea Victoriei and Dacia Blvd. The transaction includes Cesianu House historical building, former headquarters of the German Embassy.
Cesianu House was built in the second half of the 19th century in an eclectic style and was recently hosting Victoria casino.
The historical building will be renovated and integrated in the new office project, which will have an area of nearly 12,500 square metres. The project's architect is Studio10M, which has applied for the construction permit in the beginning of this year. The new office building will be named Dacia1.
The company's representatives estimate to get the permit this year and have scheduled the completion date for the first quarter of 2019.
Atenor has recently completed the third building within Hermes Business Campus, where Genpact has rented eight floors for its new headquarters. The entire project has an area of 73,180 sqm of offices, is fully let and put on sale since 2015. This is the first project of the Belgian group in Romania, where they invested nearly EUR 90 million. (source: economica.net)