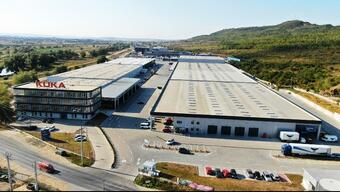 After 20 years, during which time it operated in the same factory on the outskirts of Sibiu, Asolo moves its production lines to a modern space, with a total area of 3,600 square meters, located in one of the newest projects class A from Sibiu, Industrial Network Park.
"We chose this location after a two-year search. What convinced us, in the end, was the layout of the building, the very good quality of the security systems, but also the transport infrastructure in the area, which is an additional benefit for our employees ", explained Marco Zanatta, President Asolo.
Located in the eastern industrial area of Sibiu, Network Industrial Park is very well connected to the city center, the western industrial area and the airport, with direct access to the A1 motorway. The new Asolo headquarters includes over 300 sqm of office space and an area of 3,300 sqm dedicated to production and storage, which will be customized according to customer requirements and needs.
Zacaria will deliver the space at the beginning of 2021.
"We believe that any company needs first of all a suitable space to be able to run successful businesses and we believe that it is our duty to offer our customers solutions according to their expectations and to we guide in this decision-making process. Regarding the collaboration with Asolo, we are especially excited due to the fact that many of our team have been fans of Asolo products for years, so it is an honor for us to have them as partners ", explained Marius Moga, Sales & Marketing Manager at Zacaria.
In this challenging period, caution seems to be the word that guides long-term investments, but Asolo, like many other companies, remains optimistic. "We are very excited about the partnership started with Asolo, which perfectly complements our portfolio and is in line with our long-term goals. Zacaria has had a considerable impact in reshaping the local industrial landscape, and the decisions we have made over the years have shown that we have chosen the right path, with more and more premium customers choosing to relocate to our modern parks", explained Jonathan Diamantino, CEO Zacaria.
Network Industrial Park, which includes two industrial buildings with a total area of 41,000 square meters, currently houses seven customers, mainly from the automotive, transportation and logistics industries. With the arrival of the Asolo company, only two modules remain available in the park, each of approximately 2,000 sqm. (Source: economica.net)