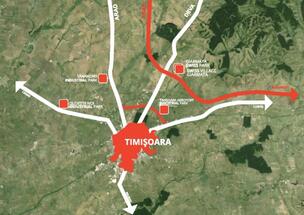 "We've chosen the western side of the country for its development potential. Given our Swiss experience, but also expertise from countries like Poland and USA, we are convinced that we will further stimulate the need for investments around Timisoara. (…) Logistically, the area presents a series of advantages that favor a sustainable development of business and it can also insure the necessary labor force", according to Dr. Michael Soormann, administrator for Artemis Real Estate.
The surface area devoted to these projects is over 128 ha and includes Sanandrei Industiral Park, Swiss Park Giarmata, Swiss Village Giarmata, Timisoara Industrial Park and Dudestii Noi Industrial Park.
Sanandrei Industrial Park is the project that is farthest along, with finished infrastructure, water works and plumbing.
The biggest projects is Giarmata Mare – Swiss Park, where the company owns 103 ha right next to the Timisoara-Arad highway.
Timisoara Airport Industrial Park occupies 8 ha near the International Traian Vuia airport. (Source: business-review.eu)