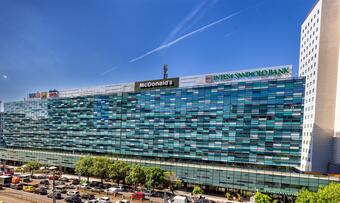 The upgrades commenced with the complete overhaul of the three underground parking levels including new 3 layers epoxy paint, full painting, installing additional led lighting, adding 14 electric car charging stations, adding three dedicated bicycles parking rooms with racks for 60 bicycles, lockers, dedicated showers, and toilets.
The refurbishment included also turning 1,800 sqm of unused space on the building first floor into class A office space and the expansion and refurbishment of World Class gym on the first floor and with providing World Class with a separate dedicate entrance on the ground floor.
AMA design studio, headed by Anda Manu oversaw the new modern and stylish design while Vitalis Consulting was appointed as project managers while Project1, Cos and Terano were the general contractors involved in the works.
They were continuously and diligently assisted by Fortim Trusted Advisers, America House property management company and by Țuca Zbârcea & Asociații overseeing the complex legal aspects.
"A famous saying that the three rules of Real Estate are the three L's: Location, Location, Location". America House is a mixed-use building, in the best location in Bucharest. We are talking about maximum visibility, the building being in Victoriei Square, nearby the Government building, in the Central Business District (CBD) area. America House can easily be accessed by subway or other public transportation, by bike, or by car. America House is proudly presenting its new look: the stylish reception, the high-tech facilities, and the cosmopolite pedestrian area, following 1.5 years of intense refurbishment ", commented David Hay, founder, and CEO of ADD Value Management SRL (AVM), the asset management company of America House.
On the technical side, 9 New Schindler passengers PORT Technology elevators were installed together with 2 new Schindler goods elevators and 8 Bon Adam turnstiles. These no-touch technology elevators have a sensor and software system which ensures an optimum flow of persons and secures the access of the employees and guests to the building. In addition, new BMS was installed together with new access and security systems and an LPR system for the underground parking.
America House is an iconic building located in Victoriei Square, in the most animated pedestrian area of Bucharest's Central Building District (CBD). The building is a complete mixture off class A office space, coffee shops, restaurants and amenities including a 1,500 sqm World Class fully refurbished and modernised gym, Starbucks and Fru Fru coffee shops, Gram Bistro restaurant, McDonald's, Noodle Pack, Dabo and Condimental fast food, BCR and Guarantee Bank branches, Dr. Max pharmacy, Cărturești, the multi-brand e.ni.wear fashion store and Eco Fresh Cleaning.
America House spreads over 3 underground floors, ground floor and nine above ground floors, with a total leasable surface of 28,806 sqm of Class A prime office space, including 3,675 sqm sqm in commercial space. America House provides 368 parking spread over three underground levels parking lot, the largest number of parking space units for a Class A office building in Bucharest CBD.
The building is fully accessible for disabled persons, employees, and visitors. The building is accessible from the street level and from the underground levels and has 4 designated parking places for disabled persons, and all indoor common areas and corridors were adapted to allow free access for disabled persons. All common toilets include designated accessible toilets for disabled persons.
The building offers generous office spaces on each floor - 3,250 sqm (the largest FLOOR PLATE in the CBD area). The office spaces have abundant natural lighting, access to two premium lobby areas and the high-end technology for building access, both in the pedestrian area and in the underground parking lot.
Many multinational and Romanian blue-chip companies have made their home and prestigious headquarter in America House, including Mastercard, Cisco, Intesa Sanpaolo Bank, McDonalds, OLX, Schlumberger, The Embassy of Japan, Țuca Zbârcea & Asociații and Fortim Trust Advisory company, Alliance Member of BNP Paribas Real Estate which is also in charge with the Property Management services.