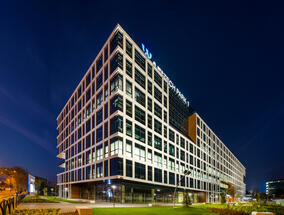 The AFI Tech Park 1 building was completed in Q3 2018, with a total rental area of 22,000 sqm of Class A office space and is located close to the Parliament Palace and Unirii Square. After the completion of the three phases of the project, AFI Tech Park will be one of the most complex office projects in the area, offering 56,000 sqm of Class A office space in the two GF + 8 floors and a 14-story tower.
"We are glad that New Work and Afcon Electra Romania have chosen to join the AFI Tech Park community and welcome them. AFI Tech Park 1 has reached an 80% occupancy in a very short time, thus certifying that we offer the most appropriate solutions to our customers. In addition to modern spaces and all the facilities at the disposal of our employees, those who decide to become partners enjoy an excellent positioning of their offices, easily accessible because they are in the city center and close to the employees' homes. We are delighted that we are not just developing a new office complex, but a community for our tenants", said Doron Klein, CEO of AFI Europe Romania.
The complex offers a wide range of tenant services such as: a conference room which can be hired on a schedule, available to all tenants; the AFI Tech Park Club membership card, which offers discounts and benefits to the restaurants and service providers nearby, as well as the World Class fitness club, which leased a 1,500 sq m space in the AFI Tech Park 1 building. AFI Tech Park 1 has already received LEED Platinum pre-certification of green building.
New Work provides solutions for corporate workspaces, integrated office services and co-working services, being one of the largest players in Central and Eastern Europe with more than 25 centers active in Hungary, Poland, Czech Republic, Romania and Ukraine. New Work leased 2,800 square feet of space in AFI Tech Park 1 and will also run the conference room of the building, which can be used by all AFI Tech Park 1 tenants, minimizing their operating costs.
The transaction was brokered by Simona Urse, Associate Director of Office Agency at Crosspoint Real Estate.
"Space leasing in AFI Tech Park 1 is a benchmark for New Work's market entry in Bucharest. We intend to develop at least five centers in Bucharest by 2020", said Hubert Abt, CEO of New Work.
The second new tenant is Afcon Electra Romania, a market leader in the development and installation of electrical, thermal, sanitary, ventilating and fire-fighting systems. Afcon Electra Romania will relocate and expand its offices by renting an area of approximately 500 sqm in AFI Tech Park 1. The company implements turnkey electro-mechanical projects for shopping centers, office buildings, industrial buildings, hotels and hospitals.
New Work and Afcon Electra Romania join other leading companies that have already moved their offices to AFI Tech Park 1 such as certSIGN, Game World Group, RTC Proffice Experience, Knauf (with the two divisions, Knauf Gips and Knauf Insulation) ,Hilti Romania, World Class, WWF, Connect 44. (source: constructiv.ro)