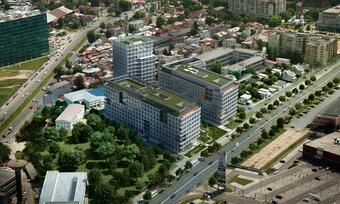 AFI Tech Park is a 56,000 sqm GLA of Class A offices, developed in 3 phases and targeting companies from the FMCG, Automotive, IT&C, BPO and shared services markets, seeking to upgrade their facilities to a new Class A offices. The first phase of the project will be delivered in Q2 2018, offering 20,000 sqm GLA office space and 2,000 sqm of retail area, including the already signed tenants World Class fitness club and 1 minute. The project is developed close to the city center, in proximity to the JW Marriott Hotel and the Romanian Parliament and will comprise of two office buildings with GF+8 floors and one office tower of 14 floors, all surrounded by over 5,000 sqm of green areas.
"AFI Europe has an excellent long term and strategic relationship with the banks for financing projects and we are glad to have, once again, Bank Leumi as our partner for phase 1 in AFI Tech Park, a project through which we plan to open a new zone for office development in Bucharest. The fact that the Park is located in downtown Bucharest and not in city outskirts provides the Park the unique advantage sought after by multinational companies in Romania. With our current development projects, AFI Tech Park office project in Bucharest, AFI Brasov mall and offices, and soon to start our first residential project in Bucharest AFI City, AFI Europe continues its expansion in Romania", said David Hay, CEO AFI Europe Romania.
The total investment for AFI Tech Park 1 is of over EUR 30 million.

A unique service AFI which will be provided to the tenants in Tech Park is a 400 sqm conference hall to be shared by the tenants in the park. This allows the tenants to avoid the necessity of having such large halls within their spaces throughout the term of the lease. Together with the surrounding retail facilities (Vulcan Retail Park, Liberty mall), the office project is bringing additional benefits such as: "AFI Club" membership offering discounts for lunch and other services, and also the first car sharing service in Bucharest.
Construction works for AFI Tech Park 1 are advancing on schedule, currently having already completed the skeleton structure.
AFI Tech Park is built to obtain the highest recognition of green building and has already obtained the LEED Platinum pre-certification for the use of construction, design and operating techniques and technologies with a minimum impact on the environment. (source: AFI Europe Romania)