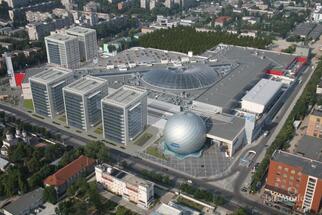 "We have decided to expand the number of office buildings within AFI Park and we will reach an area of 200,000 square meters, to which we will add around 300-350 apartments that we have not decided yet about selling or renting. We also think of the new generations, Z and Millenials, who have other priorities, looking for sensations and less property. However, they will also support the city, those who move there will most likely work in AFI Park and so several hundred cars will disappear from traffic", says Donor Klein, CEO of AFI Europe Romania.
The company has also recently inaugurated the first phase of AFI Tech Park, a project located near the Palace of Parliament. AFI Tech Park 1, a GF + 8 building with a total rental surface of 22,000 sqm, was completed in the third quarter of last year.
At present, more than 80% of the building is already leased and the developer is preparing to start work for the second phase, and AFI Tech Park's completion will total 56,000 sqm.
The next phase of the project will include an 8 storey building, works being planned to start in the following months and the project will most likely be completed by the end of next year. The estimated value of the investment in AFI Tech Park 2 amounts to 37 million euros, according to Doron Klein, CEO AFI Europe Romania.
Once completed, AFI Tech Park campus will become one of the most important office projects in the area, located at the intersection of three sectors - 3,4 and 5 - making it easily accessible by the employees of the companies that relocated here offices. (source: economica.net)