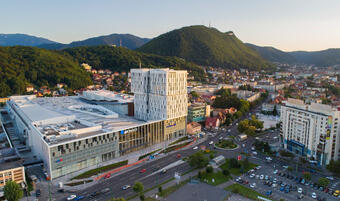 AFI Brașov is the only mixed-use project in Europe certified for LEED Core and Shell since March 2020 and the 22nd shopping center in Europe and the 4th in CEE awarded so far with this certification. AFI Europe thus became the largest developer of certified office buildings and shopping centers under the LEED Core and Shell evaluation system in Romania, with approximately 170,000 square meters of office spaces, according to an analysis conducted by the Green Certification Division within Colliers Romania, that coordinated the extensive certification process.
Real estate investments in Romania have reached a high level of maturity, so the main differentiators are currently related to quality. Real estate developers pay more attention to the environment by developing sustainable projects, efficient in terms of energy and water consumption, for which they obtain green certifications that confirm higher and higher levels.
Since 2014, the year when AFI Park 1 became the first office building in Romania certified under LEED Core and Shell Rating System, AFI Europe set several milestones on the Romanian real estate market.
AFI's sustainable efforts continued over the years in the operations and maintenance sector and, in 2017, AFI Ploiești received LEED Gold under the LEED EBOM rating system (Existing Buildings: Operations & Maintenance). This is not the typical kind of certification that a shopping center owner pursues, AFI Ploiesti being one of the five shopping centers in Romania certified under this standard. The main difference from other green standards is the complex process of monitoring sustainable activities for a least one year before submitting the documentation for verification. In that period, AFI Europe has implemented a series of technical measures, education, and CSR campaigns, with visible long-term benefits: increased efficiency of the management systems, higher quality of the indoor environmental conditions and significant cost savings.
Now, AFI Europe has the entire complex AFI Park (AFI Park 1, AFI Park 2, AFI Park 3 and AFI Park 4&5), AFI Tech Park 1 and AFI Park Brasov certified under LEED Core and Shell rating system. Also, in 2020 AFI Europe Romania delivered Phase I of AFI City Bucureștii Noi, the first residential project of the company in Romania. The project received The Green Homes certification from RGBC as a recognition for being an environmentally friendly residential project with many "green" facilities.
"What is extraordinary about AFI Brasov is that a mixed use project combining very different functions (offices and shopping center), each of them with different sustainable aspects, has been designed and built for improved health and environmental performance and that its project team has sought to achieve such a high level of LEED certification. LEED Gold Certification, the first in Romania granted under the LEED Core and Shell rating system for a shopping center, confirms that AFI Europe is part of the environmental solution and it is a benchmark for other developers across the country", said Oana Stamatin, Director of Green Certifications and Building Surveying at Colliers. (source: Colliers)