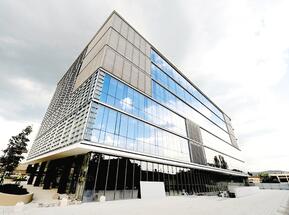 The first building of the project developed by the investment fund  NEPI and the businessman Ovidiu Şandor was delivered this summer, following EUR 26 million investments, the constructor of the structure being the company P.A.B. România from Arad.
With a rentable area of 190,000 sq. m, the first building reached an occupancy rate of nearly 80 pct., so the investors decided to start the next phase of the project, with an area of 18,000 sq. m.
Ovidiu Şandor has confirmed the information regarding the beginning of works of the second phase of The Office,  but didn't offered any additional information, ZF writes.
 ACI, a company controlled by several businessmen from Cluj, including Ioan Aşchilean, Horia Ciorcilă and Dorin Goia, has in its portfolio the construction of Cluj Arena and had last year EUR 21 million turnover.
The company Prompt from Timişoara was also involved in the construction of City Business Center developed by Şandor in Timişoara and sold to NEPI, and last year the company's turnover registered EUR 21.7 million. (source: zf.ro)