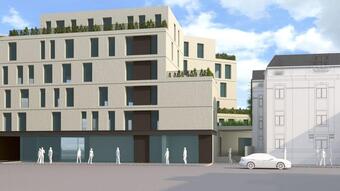 Business Center The President is a Class A real estate, with a built-up area of nearly 5000 sqm, spread over 8 levels (2S + GF + 5E). The building comprises 4 areas: the basement of the 1500 sqm building. includes 50 parking spaces arranged on two levels, the base of the building with 3 commercial spaces with a total area of 650 sqm., the 5 floors which offer office space and terraces with a total area of 2850 sqm. and over 100 square meters. outdoor and indoor advertising spaces, arranged on the building façade and inside, respectively.
The business center spaces are exclusively for rent, being suitable for restaurants and terraces, offices and conference rooms, shops and Outdoor and Indoor panels, the company predicting a turnover of 1 million euros a year from rental contracts.
The building's facilities include class A finishes and installations, Schüco carpentry, 4 seasons windows, ceramic / marble ventilated façade, integrated air conditioning system, video control, card access system, Wi-Fi internet, two lifts (car and persons) , sanitary groups, kitchenettes and technical spaces on each floor.
"Business Center The President is a multifunctional real estate project that fits into the new generation of urban regeneration projects bringing all the necessary amenities to the city center: offices, commercial spaces, parking facilities, HORECA spaces and advertising spaces. Built on a space left unattended for many years, this project aims to give back to the city of the abandoned area between Calea Moşilor, Mihai Eminescu Street and Dacia Boulevard, thus supporting the economic rise of this area. In addition, the panoramic terrace on the top floor of the building can become a real oasis of relaxation for the residents of the area", said Corin Romanescu, owner of the Business Center The President. (source: Business Center The President)