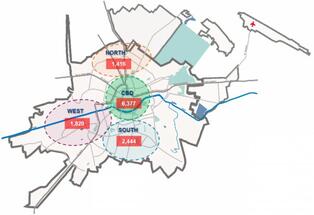 The company is targeting approx. 3,000 sqm office space for its first office in Romania.

The information came shortly after the announcement of the Japanese auto parts manufacturer Roki, which will open in Arad its first production centre in Europe.
Timişoara has become in the last year an effervescent market for the office developers. Three large projects are currently in construction.
Iulian Dascălu has recently completed the first office building of the seven included in its project Openville Timişoara, around Iulius Mall. The building, including 12 floors and 18,000 sqm is fully let to companies such as Ness Software Engineering Services, Autoliv Romania, PwC Romania and Bitdefender.
Another local entrepreneur, Ovidiu Şandor, is currently working at the first phase of a complex including offices and residential units. The first 16,500 sqm of office will be completed by March 2018.
A third businessman, Virgil Tornoreanu, is also developing in Timisoara an office project , Vox Technology Park, with an area of 26,000 sqm, to be completed by the end of the year.
The A and B class office buildings in Timişoara currently host more than 13,000 employees, according to a market study made by DTZ Echinox. Most of them are grouped in the buildings from the city centre, where more than 6,300 persons are working. In the south there are approx. 2,400 people and in the west around 1,800. (Source: capital.ro)