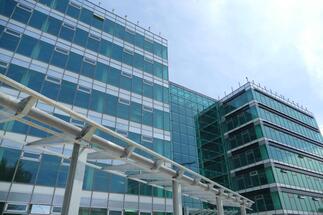 Over 700 plants and trees, and 2,400 sqm of grass will place Oregon Park as one of the greenest places in the Floreasca – Barbu Văcărescu business hub.
"The landscaping is very important to Portland Trust and it will be integrated in a practical and attractive way in Oregon Park for people to fully enjoy its benefits. This is a complementary addition to all the other high-tech specifications focused on natural resources and energy savings, which places our project at the top of the green office buildings' ranking: low carbon footprint and zero ozone depletion, thanks to the building materials, a geothermal heat pump system (which generates savings of over 35% of the energy costs related to heating and cooling), LED lighting, electric car chargers, bike racks, and recyclable waste storage", says Robert Neale, owner and Managing Director of Portland Trust.
With this Class A office project, Portland Trust continues to apply the latest and most advanced green technologies and sustainability measures in the construction of green office buildings in Romania. The project will have a BREEAM "Excellent" certificate.
Strategically located in the Floreasca – Barbu Văcărescu area in Bucharest, Oregon Park will include three buildings with a combined net leasable area of 70,000 sqm. Building A has a leasable area of 20,000 sqm, while buildings B and C will each have 25,000 sqm. The first two buildings, consisting of ground plus 6 floors, each with two levels of underground parking, are in advanced stages of construction and will be completed this summer.
The design and layout slightly resembles the Bucharest business park on the DN1 which Portland completed 10 years ago but which has always maintained high occupancy due to its focus on greenery and generous areas between the buildings.
Portland Trust is a well-known commercial developer in Central Europe and was founded in 1997. Robert Neale is the owner and Managing Director of the company which has offices in Prague and Bucharest and has built to date more than 550,000 m2 of leasable new commercial space.
Portland Trust has had a long term joint venture with ARES Management, a partnership that has allowed Portland Trust to expand and invest in large projects in various countries throughout CEE. In Romania, the company focuses on the development of institutional quality office buildings.
Portland Trust is dedicated to a clear and simple environmental policy of using local, natural materials where possible, designing buildings in a fundamentally efficient manner, use of modern, efficient technology and adhering to both local and international guidelines for energy efficiency. The company has won many awards for design and sustainability. (source: Portland Trust)