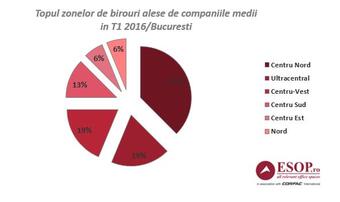 37pct. of the medium companies managers relocating in new offices have chosen the centre-north zone, almost the same number of companies choosing together the western zone and the downtown Bucharest (with 19 pct. each), according to a study made by ESOP Consulting.
"The centre-north area is leading in tenants' preferences in this period, as here the new office spaces offer, just delivered or scheduled for delivery is the highest and the managers have multiple options.
In the second half of 2016 and in 2017 several new buildings will be delivered at high quality standards in the other zones too, now on second place – the centre-west and the downtown, the larger offer generating more transactions in these zones too and balancing the market between the three poles of interest for the medium companies", said Alexandru Petrescu, Managing Partner ESOP Consulting / Corfac International.
Considering the office type chosen by the medium companies' managers, the studied data shows that63 pct. have chosen spaces in business centres and 37 pct. villas with commercial destination.
The average area of an office transaction brokered by ESOP Consulting on this market segment has increased from 268 sq. m, last year in the same period, to 394 sq. m in 1Q of 2016.
The offices rented by medium companies had areas between 85 sq. m and 1,000 sq.m. (source: ESOP)