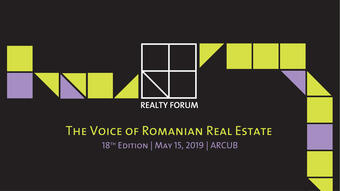 Date: May 15, 2019. Venue: ARCUB
As Business Review hosts the 18th edition of REALTY Forum, its flagship event for the Romanian real estate market, this significant milestone will underpin the concept of this year's conference. Business Review has been covering the impressive growth of the property sector in the last 18 years and the challenges stemming from economic headwinds and shifting trends of consumers.

In this period, the image of Bucharest and other regional cities has changed significantly due to the development activity that has evenly covered the whole market segments. The real estate sector continues to progress as more Romanian entrepreneurs and large foreign funds are developing quality projects that can compete with similar ones in other international cities.

Business Review's REALTY Forum will review the development of the sector in the past 18 years and will also start a conversation about the future of real estate and its innovation potential driven by technology.