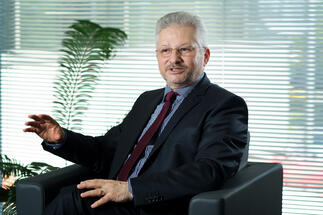 IMMOFINANZ is one of the first investors in the local real estate market. What was your company's first acquisition on the office segment and when did it take place? What was the specific of that investment context?
IMMOFINANZ is a long-term investor in Romania – a core market for our global business. We entered the local office market all the way back in 2004, with the acquisition of Iride Business Park, which to this day remains the largest office park in Romania.
At a time when the local office market was in its early stages of development, IMMOFINANZ saw the massive development potential of our country and set the basis for what would become one of the biggest local real estate investments in Bucharest.
How would you describe your company's office portfolio in Romania in relevant figures?
IMMOFINANZ is one of the biggest office owners in Bucharest. We currently have eight standing office buildings, located in prime locations of the capital city. Furthermore, we are in full swing with our latest development project in the office sector, Metroffice, which will be realized as the first part of a long-term master plan. 
Together with retail, our office business remains a top priority for us and we are very happy to see continuous demand for our properties. The extension of many lease agreements, as well as the new tenants joining us, demonstrate that our strategy of consistently putting the needs of our clients first and building long-term relationships with them will always pay off.
Currently, real estate developers with new completed projects are taking in lots of tenants, especially large companies, which are relocating from older buildings. In a way, one could even talk about a real "exodus" of the anchor tenants, attracted by new features, greener environment and even better financial deals.
What is your strategy in order to avoid this phenomenon within your office buildings?
Our strategy, which we have implemented over many years and has always provided excellent results, implies integrating a high degree of flexibility into our property offer. As our recently announced new partnerships and extensions of existing contracts in the office sector illustrate (we prolonged and extended existing contracts for over 19,000 sqm and attracted new tenants for about 2,400 sqm), our premium properties continue to be very popular.
This is mainly due to the fact that we take great care to adapt to our clients specific business needs in order to help them achieve their objectives, as our long-term partners. Furthermore, thanks to our varied portfolio, we have the possibility of providing tenants with the exact solution that best fits their demands, as well as customizing the premises according to their needs.
Bucharest remains the leading area in terms of office demand – a fact illustrated by the significant and constant development of this sector in recent years. This constantly increasing demand for premium office space is the first reason why we began the development of Metroffice in the Dimitrie Pompeiu area.
Have you planned a facelift for the older assets in your portfolio?
We constantly invest in our existing properties, to ensure that they fit the highest quality standards. This has always been the case and we are proud to have a premium office portfolio, which fulfils all client expectations.
In terms of new office projects, we are working hard on theMetroffice office complex, which covers three buildings, with a rentable surface totalling approx. 40,000 sqm. The first section, currently under construction, will cover GF+ M+4 floors, with nearly 20,000 sqm. The rentable areas will range up to 3,500 sqm per floor, with a flexible design that allows for individual and open offices.
Construction should be completed in the second calendar quarter of 2016. The investment volume for the first building will total about 34 million Euros. When completed, Metroffice will provide work spaces for about 5,000 employees.
You have recently announced to have selected the constructor for a new mixed-use project in Pipera, called IRIDE City. Is IRIDE City an expansion of the current business park or is it an entirely different concept? What are the main features and office details of the project? When would it be available to companies?
Our most important current development project is in the office sector, Metroffice, which will be realized as the first part of a long-term master plan. This involves the redesign of the entire area of IMMOFINANZ's Iride Business Park, integrating it into the future IRIDE City, which will be a city within the city.
Over the next decades, the larger IRIDE City project calls for a mix of office spaces, restaurants, hotel and conference centre, day-care centre, park and sports facilities, resulting in a vitalized area of Bucharest. Plans also call for LEED certification, featuring, among others, a green roof.
The entire project includes the refurbishment of the current Iride Business Park, the largest business park in Bucharest and one of the longest standing addresses in the northern city business district. Iride Business Park is home to leading local and international companies, and sits on 17 hectares of land. It currently offers approximately 93,000 sqm of rentable area in 20 buildings, ranging from single to eight levels. When completed as a modern urban quarter, more than 20,000 employees will call IRIDE City their workplace.
What is, in your opinion and guided by your experience, the profile of the "ideal office building" for the companies on the local market, mainly in Bucharest?
To us, the most important feature that best describes an "ideal office building" is flexibility. This is a core concept for us, one which we continue to apply to all our properties. We always strive to adapt the services and spaces we offer to the specific needs of every tenant.
Our extensive experience allows us to be a provider of specially designed property solutions, which support our customers in the successful achievement of their business ideas. Our new motto "Space to succeed" further illustrates this vision and we are proud to have formed numerous long term partnerships with our tenants, providing individual services directly from the owner – during the company's search and long after it moves into its new office location.
How would you evaluate the first half of 2015 in terms of your business on the office segment?
We are very happy with the evolution of our business this year. In terms of our office business, we have attracted new tenants in our premium properties and extended existing partnerships, as well.
As such, major software developer SIVECO Romania has prolonged its lease agreement for 5,500 sqm in Victoria Park for another 7 years. KPMG has also chosen to expand its rented area in Victoria Park by almost 670 sqm, to a total of almost 6,400 sqm, and has prolonged its lease agreement for another 5 years.
Furthermore, S-Park welcomed new tenants, B.Braun and Best Chef. Grundfos Pompe Romania has prolonged its lease in S-Park for an additional 5 years, while SkyConsult Ro has also prolonged its lease in S-Park for another three years.
Another IMMOFINANZ property that welcomed new tenants is Baneasa Airport Tower: ProCredit Bank has signed a 5 year lease, while Hafele Romania will also become a tenant, with a 5 year lease.
Iride Business Park also announced a new partnership: Real Velarde leased approx. 300 sqm in this property for a period of 5 years. Several existing tenants have also prolonged and/or extended their lease agreements in Iride: Terapia Ranbaxy, Ropharma, Telekom Romania, REGINA MARIA - The Private Healthcare Network, and Alcon. Bucharest Corporate Center announced the prolongation of the partnership with Wolf Theiss, another long term tenant of IMMOFINANZ.
Furthermore, we are in full progress with our most important development project in the office sector, the Metroffice complex.
Do you have other development or investment plans on the local office market?
For us, the first part of 2015 has been quite a busy period: currently, we are fully committed to completing Metroffice. We will continue to focus our efforts on delivering the very best quality properties and services to our tenants, as well as always paying attention to possible new opportunities on the market.
What is trending in the office market at the moment in your opinion, both locally and internationally?
We can say that we have noticed an increased focus on client needs, which is definitely good to see, as in the long term it will boost client expectations and, in turn, office quality level. Regarding this aspect, IMMOFINANZ can be considered a trailblazer – many of our tenants already appreciate the high quality of our properties and connected services, which is why they continue to renew their partnerships with us.
What are your predictions for Bucharest office market on medium and long term? Do you think the attractiveness of the market has grown enough to fulfil the appetite of large real estate investors?
Romania is moderately confirming its growth potential and benefitting from exports to Germany, Austria and other countries in Western Europe. From our perspective, the country's economic environment is steadily improving.
As this growth appears to be a longer term one, sustainable investors, like us, can thrive here. In line with our long-term strategy, we closely observe market dynamics in all sectors in order to identify any new opportunities. As such, we have noticed clear signs of a stepwise economic and real estate market growth, particularly visible in the office sector.
In line with its current evolution, we do not expect any spectacular changes in the near future – most likely the picture will remain quite similar to the current one, on track with the continued steady growth trends in many sectors.