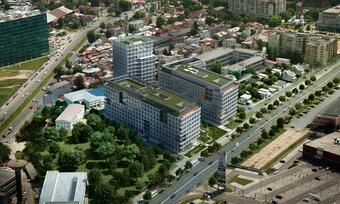 The lease process was intermediated by Colliers International, consultants Lucian Opriș and Alexandru Orzea.
The works for completion of AFI Tech Park 1 building are in advanced stage and the delivery date will be June this year. At the present moment, the occupancy rate of the building is 40%, WWF representatives being among the 3,000 employees whom AFI Tech Park 1 will accommodate. This first stage of the project will offer a leasable area of 20,000 sqm of Class A office spaces and a retail area of 2,000 sqm.
Quick Service Restaurant "1 Minute" (110 sqm), Game World Group (2,000 sqm), RTC Proffice Experience (650 sqm), Knauf Romania (600 sqm) are companies that already signed leasing contracts in AFI Tech Park 1 and will move in the new campus starting from mid of 2018.
"The competitive work force and the attention to the employees' needs determine companies to rethink their strategy when they choose a new location for their offices relocation. The new modern Class A office buildings situated close to the center of the city are among the managers' preferences in order to cut travel time spent in traffic. We are happy that AFI Tech Park that is pre-certified green building LEED Platinum will host one of the most important and respectable organizations that develops projects for the preservation of nature," says Tal Roma, Business Development Manager AFI Europe Romania.
Once finalized, AFI Teck Park business campus will become one of the most complex office project in Bucharest, offering 56,000 sqm of Class A office spaces in the two GF+8 buildings and one office tower of 14 floors and various services such as: a 400 sq m Conference Hall that can be shared by all the tenants based on hourly booking, "AFI Club" membership, which offers discounts to restaurants and other services, shuttle bus to connect with Unirii Metro station and also the proximity of World Class gym on 1,500 sq m leased in AFI Tech Park 1.
The campus is fulfilling the current needs of the employees, for whom a shorter time spent on the way to work and back home represent one of the most important criteria considered when they decide to choose the future work place. The access to public transportation is facilitated through excellent connections to 5 tram lines, with highest high frequency in Bucharest, and the subway station Unirii in close proximity.
"We have chosen AFI Tech Park because we felt that the way WWF presents itself to the world should reflect our environmental principles. The whole complex respects all the environmental standards, right from the design and construction stages of the project. We look forward to working in a place in which we will be closer to the community, in a comfortable space that permits flexibility in movement and from where we can rapidly and easily access all the areas of the city, which are of interest in our work," says Orieta Hulea, Director, WWF Romania. (source: AFI Europe Romania)