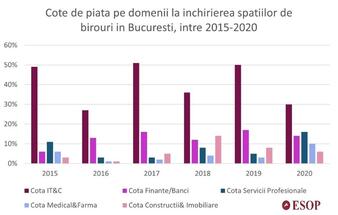 An example of this is the expansion of the consulting firm 3BG, which has tripled in size in the last year of activity and is moving to an entire floor in the Unirii View building. 3BG offers e-commerce services through the Amazon platform - the largest marketplace in the world.
"In 2020, we recorded spectacular results, amid the acceleration of online commerce globally. The services offered by 3BG have contributed to the increase in sales of our partners and collaborators, mainly on the Amazon platform. The new office space was chosen to increase the comfort and protection of 3BG employees, also taking into account the company's development prospects. We consider that the best professional results are obtained through the physical interaction of the entire team, that's why we chose a representative venue for us. As the health situation allows, the entire team will be able to return to the office", said Halasz Tamas, CEO of 3BG.
"3BG is an example of the expansion of office space, which made the transition from an office in a villa to one in a class A office building, located in the ultra-central area of the Capital. The company has now chosen to secure a new headquarters due to the opportunities offered by the market. At the moment, there are also foreign companies that are preparing to enter the Romanian market, that are probing the ground and that could give a new breath to the office rental market in 2021 and in 2022. Class A office buildings are especially targeted. We hope that this wave could counteract the requests to reduce the spaces coming from the companies that have put spaces for sub-lease and 2021 to be a better year than 2020", declares Alexandru Petrescu, Managing Partner at ESOP Consulting l CORFAC International, the broker of the transaction in Unirii View.
IT&C has taken several steps back, after setting a record for office rentals in 2019
The largest decrease in office demand was recorded in 2020 in the IT&C field, while the pharmaceutical field tripled the volume of rented space. Last year, the spaces rented by IT&C companies decreased from about 150,000 sqm to about 30,000 sqm, and their share in the total market decreased from 50% in 2019 to 30%.
"In 2021, this field could partially recover, if the companies that consider moving operations to Romania as a result of Brexit or those that have noticed that the Internet infrastructure in Romania has helped companies work very well both in the version of working from home (in the quarantine period) and in the hybrid version, in the periods of alert state, will enter the market", considers Alexandru Petrescu from ESOP. (source: Esop)