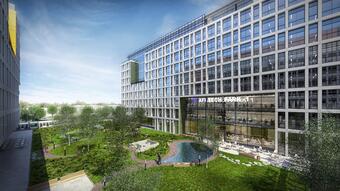 When choosing where to relocate offices that companies are occupying, new emerging areas, closer to city center gain relevance. According to a development assessment qualitative report elaborated by Unlock Market Research for AFI Europe Romania there is a new trend that companies return into the city. In this context, AFI Tech Park developed by AFI Europe Romania is a visionary, creative and inspiring project currently developed in a new business area closer to the city center.
This qualitative study made in the last quarter of 2017 revealed that an office building is not just a place, it is a symbol of the strength and of the character of the business. It represents the image and the values of the company among employees and across external clients. When choosing a place to move their business, CEOs analyze the features of the building not only from a technical perspective, but also taking into consideration the needs and values of the company and its employees.
"We encourage companies to move to AFI Tech Park in order for their employees to stop wasting their lives in traffic. AFI Tech Park, whose construction works for the first building will be completed in May 2018, provides the best conditions at a fair value for large companies having lots of employees living in sectors 4,5 & 6. AFI Tech Park 1 already has an occupancy rate of close to 40%. The office building is situated in a less crowded area, close to the city center and central areas such as Izvor, J.W.Marriott, Unirii, Centrul Vechi. It has several public transportations means available, easy to reach by everyone from every corner of the city, and a wide range of facilities – shops, restaurants, pharmacies, world class gym and shopping centers," stated Tal Roma, Business Development Manager AFI Europe Romania.
According to the study, the top trends influencing the decision of moving to an office building are:
The future is urban.
New emerging areas closer to city center gain relevance, while remote platforms outside the heart of the city start to lose their appeal. The reason why is that employees spend less time in traffic.
Blending landscape into the "building"
, meaning that each office building should have green areas where people can escape from pressure and technology.
Traffic friendly buildings
located in areas as far as possible from jammed and crowded places and closer to where people live.
Based on the decision-making process, there are three profiles of companies when it comes to moving in a new building:
The corporate VIP culture
: multinational companies with strong, well defined corporate values, well defined principles and procedures. In this corporate business the decision process is centralized, standardized, clear rules, little flexibility, very conventional.
CEO centric culture:
locally developed business, usually by people that previously worked in corporate environment. CEO is usually trying to replicate corporate environment as a way for the company to gain credibility and prestige. The decision is an autocratic process, highly personal, depending on CEO wishes.
Entrepreneurial culture:
can be both big and well established local companies or companies that are part of international business but with strong long imprint. Entrepreneurs are usually open and have a flexible attitude towards business and procedures. In this environment, the decision process in open, more democratic, flexible, more open to new and pioneering projects.
Details about the AFI Tech Park office project are available on the dedicated website: www.afitechpark.ro. (source: AFI Europe)