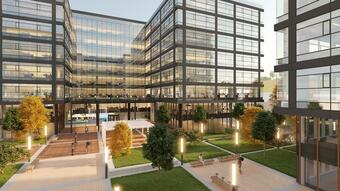 The video game industry is in the process of transformation in terms of new technologies used. In this context, Ubisoft aims to be the leader of the entertainment industry by expanding the company both numerically and in terms of level of expertise. In order to be able to develop and integrate new trends in the company's activity, one of the priorities of Ubisoft Bucharest is to create the best working environment, an important element for attracting and motivating top talents.
"After 15 years of partnering with Dageco, which helped us provide our employees with a pleasant and comfortable workspace, it is time to take a step forward. We wanted Portland Trust to build our future headquarters, to provide the best environment for the needs and creativity of our growing teams.
We also dedicate an area of over 750 square meters for the development of our educational projects, such as Ubisoft Coding Campus, for students preparing for a career in the video game industry", said Sebastien Delen, Managing Director, Ubisoft Bucharest.
J8 Office Park will be aligned to the highest standards of energy efficiency and sustainability and we will make every effort to obtain BREEAM Excellent accreditation, according to Portland Trust.
Ubisoft Bucharest will occupy about 30,000 square meters of the J8 Office Park project, located near the Jiului subway station. (source: Ubisoft)