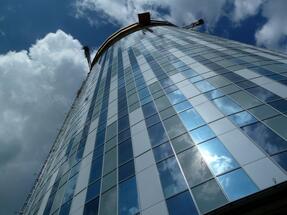 Beside the two tenants, Esop has also brokered the lease singed for the same building by Amadeus, the first company to occupy a space in Sky Tower, the tallest building in Bucharest, besides Raiffeisen.
Esop Corporate, the new business division of the real estate company Esop Consulting has also rented three spaces in some representative office buildings in Bucharest in the first months of the year: 185 sq. m in Charles de Gaulle Plaza building, to Monsson Invest, 516 sq. m in Premium Plaza, to Ecrion Software and 2,015 sq. m in River Plaza, to Kruk Romania.
"As we forecasted in the beginning of the year, more and more companies are putting again on the list of the important selection criteria the quality of the office buildings, looking for spaces with an added value of image and comfort. Following this trend, Esop Corporate Division registered good results in the first part of 2014, confirmed by the five transactions signed in premium A and A+ class office buildings, with a total area of approx. 4,500 sq. m. To this area we can also add the spaces in advanced negotiations in this period, of another 6,000-7,000 sq. m, which makes us estimate that overall the volume of the transactions closed on this premium segment will exceed 11,000 sq. m by the end of the year", has declared Mirela Raicu, manager of the Corporate Division and Partener within Esop Consulting l CORFAC International.
Sky Tower is the tallest office tower in Romania (137 m and 37 floors), a premium building with A+ class spaces, developed by Raiffeisen Evolution, the same developer as for Promenada Mall, in the close vicinity, in Barbu-Vacarescu area.
Premium Plaza is an A class office building situated in the proximity of America House, with tenants such as Capgemini and Webhelp.
River Plaza is situated in Unirii area, in the close vicinity of the Chamber of Commerce and Industry of Romania headquarters. (source: dailybusiness.ro)