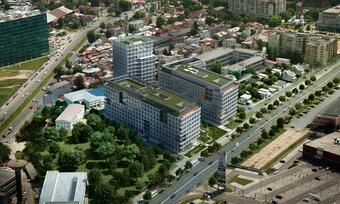 Currently, the already signed lease contracts and other pre-agreements for different surfaces in the building represent an occupancy rate close to 40% in AFI Tech Park 1 and advanced discussions are held with additional companies from IT&C, pharma and FMCG sectors. The delivery of the first office building, which offers 20,000 sqm GLA Class A office spaces and 2,000 sqm retail area, is estimated in May 2018 and will accommodate up to 3,000 employees.
"AFI Tech Park, our new business landmark in Bucharest, is attracting more companies that understood the opportunity of leasing spaces in a newly constructed class A office close to the City Center enjoying the benefits of relocating back inside the City as opposed to the peripheral locations which became un-attractive and understanding the needs of their employees regarding minimizing travel time to and back from work," says David Hay, CEO AFI Europe Romania.
AFI Tech Park comprises of two office buildings with 8 above ground floors and one office tower of 14 floors, totaling a gross leasable area of 56,000 sqm, all surrounded by over 5,000 sqm of green areas. The project is located 5 minutes away from city center Unirii, near JW Marriott Hotel and the Romanian Parliament. The office spaces in AFI Tech Park are delivered with high technical specifications, designed to obtain the highest recognition for green buildings, already receiving the LEED Platinum pre-certification for the use of construction, design and operating techniques and technologies with a minimum impact on the environment.
A unique service offered by AFI Tech Park is a 400 sqm conference hall to be shared by all tenants of the office buildings, which further strengthens the project's money saving positioning on the market. Other benefits for the future tenants include "AFI Club", which offers discounts for lunch and other services, also the first car sharing service in Bucharest.
The lease process was successfully intermediated by with Colliers International, namely consultants Lucian Opris and Alexandru Orzea which advised AFI Europe Romania.

AFI Europe, a subsidiary of AFI Properties, is one of the leading real estate development, management and investment companies, which is operating in Central and Eastern Europe since 1997.
AFI Europe's diversified portfolio consists of shopping malls and retail properties, business parks and large-scale residential and mixed-use developments. AFI Europe operates in Romania, Czech Republic, Poland, Germany, Bulgaria, Serbia, Hungary and Latvia.
AFI Europe operates in Romania since 2005. The company has developed and is managing "AFI Cotroceni", the largest and most dominant shopping mall in Romania and among the leading shopping malls in the CEE region. The mall spreads over a leasable area of close to 90,000 sqm (GLA) and offers to its visitors a large entertainment area with multiple leisure options and a variety of over 300 shops of local and international brands, visited by 50,000 customers per day.
In October 2013, AFI Europe inaugurated AFI Ploiesti, the first and only modern shopping mall developed in the city centre of Ploiesti, following an investment of over EUR 50 million. The shopping mall offers a total gross leasable area (GLA) of 34,000 square meters spreading over two retail floors occupied by 100 national and international brands, including more than 7,000 sqm of entertainment.
Adjacent but fully integrated into AFI Cotroceni shopping mall, AFI Europe Romania has developed AFI Park, Bucharest's newest and most advanced Class A Business Park. AFI Park offers 70,000 of office leasable area occupied by multinational IT&C corporations. AFI Park 1-5 are close to 100% leased. AFI Park line-up of multinational tenants includes: Microchip Technology, Electronic Arts, Endava Romania, Cameron US, SII Romania, ORTEC Central & Eastern Europe, FotoNation, Telus International, Veeam Software and Dell SecureWorks.
AFI Europe Romania is currently under development in the City Centre of Brasov Romania of AFI Brasov, which includes a 45,000 sqm GLA shopping mall and two office buildings of 25,000 sqm GLA.
In the office segment, AFI Romania is under development of AFI TECH PARK, a 56,000 sqm of GLA Class A Business Park located in close proximity to the J.W. Marriott hotel and the Romanian Parliament. The business park will comprise of 2 low rise office buildings and one office tower, with ample green areas in a central garden, the project being built as a high tech/campus style environment, to answer the expanding needs of IT&C companies in Romania by offering a suitable space in terms of technical specifications accompanied by required expansion options.
In addition, AFI Europe Romania has two projects to be developed in the near future: a 80,000 sqm land plot in Arad where a retail park is to be developed anchored by a hypermarket and a DIY shop and the large scale residential project AFI City, to be developed on the 148,000 sqm land plot in Bucurestii Noi district 1 of Bucharest. (source: AFI Europe Romania)