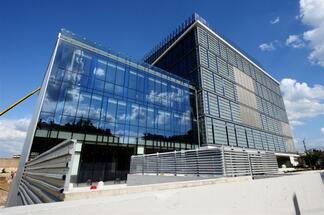 The construction works for the third development phase started this days, the rentable area of 18,500 sq. m of the this phase being scheduled for completion in the summer of next year, according to the initial plan advanced by the developers even since 2012.
"The development is taking place on a favorable economic background, as Cluj-Napoca attracts and still offers business development opportunities, mainly in the IT industry ", a press release of the developers shows.
The Office will include a total rentable area of 59,185 sq. m upon its completion.
The first phase of the project, with 21,273 sq. m rentable area (currently fully let) was delivered in May 2014, following an investment of nearly EUR 26 million, while 19,412 sq. m of the second phase, completed two months ago following nearly EUR 18 million investment is 83 pct. let, with advanced negotiations on the unoccupied areas.
The developers didn't announced the value of the investment in the third phase of the project, but taking into consideration the area, comparable to the second building, this could reach EUR 18 million.
"Considering the third phase, although works are just starting, 30 pct. of the area to be delivered mid next year are already rented. Currently, advanced negotiation are taking place with companies indenting to expand, as well as with many new companies", has declared Lori Collin, office executive within NEPI.
A major competitive advantage in attracting tenants is the high flexibility of the areas and the expansion possibilities.
The Office is the main A class office complex situated in the central part of Cluj-Napoca. The number of the employees working in the complex will exceed 5,000 by 2017. The companies with offices in the complex include National Instruments, Yonder, 3Pillar Global, HP, Leoni, Betfair, Lohika Systems, Yardi, COS, Deloitte, Ernst&Young, Wolters Kluwer, TUI Travel, Bombardier, Bosch, MOL. (source: profit.ro)