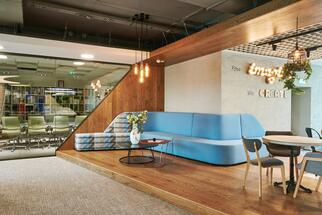 THETA Furniture & More, one of the largest local integrators of interior design & fit-out solutions, announces its intentions to increase market share up to 11% and the turnover up to 25 mil EURO by 2024.
The year 2021 had a promising start for the company, with signed contracts worth over 4 million EURO in January - March, representing a double value compared to the same period in 2020. "We intend to close the year with a turnover of approximately 12 mil EURO ", estimates Florin Gheorghe, Co-founder & CEO of THETA Furniture & More.
"The year 2020 has been also a challenging year for us, as for the entire industry, from all points of view, especially since the unpredictability factor had a great impact on many areas of activity we are working with, for example the office sector. We focused quickly on solutions therefore the transaction sale, in the middle of 2020, of 50% of the company to the Black Sea Fund, is a wise decision and a solid partnership, which works well for both parties." – completes the representative THETA Furniture & More. THETA sold, in July 2020, 50% of the company to one of the largest local investment funds, which thus became the company's shareholder.
THETA Furniture & More is the only local integrator of interior design & fit-out solutions that has its own production factory, near Bucharest. With an initial area of 700 sqm, the factory currently has a capacity of 5,000 square meters, and the company intends to expand it in the near future. THETA Furniture & More factory works with modern materials, innovative accessories and uses state-of-the-art technologies in creating custom furniture, smart ceilings, practical floors, lighting fixtures and more. The company collaborates with important architects in the field and has exclusive partnerships with renowned materials manufacturers and standard furniture products.
"Our plans are to develop the company vertically and horizontally, more precisely we will continue the development of our current business and we will also acquire other companies in fields related to ours," declares Florin Gheorghe, Co-fondator & CEO THETA Furniture & More.
An important permanent goal for the company is to invest in team development, even in the current pandemic context. THETA Furniture & More team is formed by 100+ employees and external collaborators, and by the end of 2021 the company intends to recruit at least 12 new employees.
THETA is a local general interior contractor, with 12+ years of experience in the production of custom-made furniture with its own production factory, and in the last 6 years, as an integrator and project manager in various industries.
The competencies of the team of professionals consist in managing complex projects from the initial design phase to implementation and delivery: interior design & fit-out, architecture and MEP design, consulting services, standard and custom furniture implementation services.
The specialized expertise is reflected in delivering of office spaces, commercial and industrial spaces, medical, hotels, for more than 1,500 local and international companies. Up until now, THETA holds in its portfolio over 300,000 sqm of interior space delivered on time: 890 office spaces, 505 commercial spaces, 115 HoReCa spaces. www.theta.com.ro