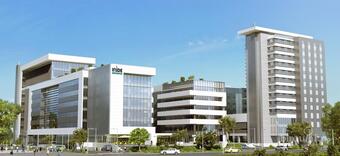 Iride currently totals a rentable office area of 92,855 sq. m, but it is estimated to reach 200,000 sq. m on long term, with the expansion of the office area in a mixed-use complex – Iride City.
"The transformation plan of this area into an innovative district, with office spaces, commercial areas and residential – in other words, a new, open and revitalized part of the city. In the end of its final construction phase, Iride City will include, as well, restaurants, a hotel, a conference centre and a day centre for kids, a park and sports", says Sorin Vişoianu, country manager office and logistics of Immofinanz, the company controlling the project.
The first phase of the works in Iride City project started with three office buildings Metroffice, offering a total area exceeding 40,000 sq. m. The completion is scheduled for the second quarter of 2016. The investment volume for the first buildings will reach nearly EUR 34 million.
"The fact that there are many ongoing projects confirms our point of view: Romania's economy entered an ascending trend and it is developing faster than other Central and Eastern European countries. These favourable trends of the market will determine a constant growth of the quality real estate projects, no matter what the initial destination of the land was", concluded Sorin Vişoianu.
Immofinanz Group is active on the Romanian market starting 2004 and currently owns an asset portfolio of EUR 964 million, including several plots of former factories, such as (5.3 ha) and Rocar (18 ha). (Source: zf.ro)