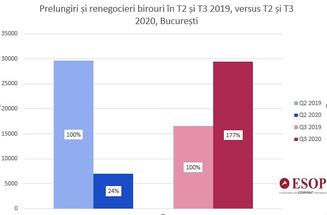 In fact, on this segment of contract renegotiations there was an increase compared to the previous quarter, but also compared to the same quarter last year. Leases for office space were extended in the third quarter of 2020, amounting to 77% more than in the same period last year.
"A positive signal is the resumption of trading in office spaces in new business centers. Even if the volume of contract extensions is higher than that of relocations in new buildings, the relocation trend could be upward in the next 12 months, as tenants can now capitalize on greater willingness from landlords to offer competitive rents and turnkey solutions arrangement of office space according to the new anti-COVID conditions - 19", says Alexandru Petrescu, Managing Partner at ESOP Consulting at CORFAC International.
In the second quarter of this year, which included the lockdown period caused by the beginning of the COVID - 19 pandemic, the renegotiation segment had also fallen to 24% compared to the same period last year, like the entire market.
However, pandemic protection measures taken by office building owners between May and July 2020 have increased tenant confidence and led to a resurgence of transactions. Among these measures, the most effective proved to be the provision of disinfectants at receptions and in common areas, separate access flows in the building and in common areas, signaling the positioning of people in the elevator and sanitation of air conditioning systems.
The leases of new spaces and the pre-leases of new spaces accumulated in the third quarter of 2020 a total of 23,268 sqm, which represents approximately 60% compared to those recorded in the same period in 2019.
"In the last three months, new office tenants have preferred office buildings under various stages of construction such as: One Tower, One Cotroceni Park, U Center, Ana Tower, The Light, Splay Offices, Miro Office, etc. We believe that in the next period will continue the trend of renting or extending contracts for office space in new business centers that implement technical systems to combat pandemics such as: high-performance air filtration systems and fresh air supply, access in the office space without touching the surfaces and where the workstations can be arranged respecting the norms of physical distance ", says Alexandru Petrescu from ESOP Consulting. (source: ESOP Consulting)