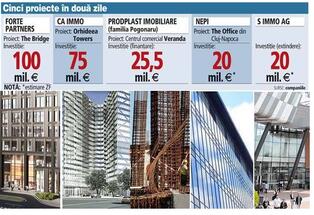 He says that the investors are considering the local real estate market on the background of banks in Western Europe offering negative interests for deposits and of the increasing of the purchase power in Romania, as well as of the yields for commercial spaces.
The largest project started in Bucharest this week is The Bridge of the developer Forte Part­ners, a total investment of EUR 100 million in two office buildings developed on the plot of a former bread factory in Orhideea- Basarab Bridge area.
Moreover, the area becomes a hotspot on the office map in Bucharest, considering that the current stock is 56,000 sq. m, but it will triple in the next two years.
"The investment for the first building is reaching EUR 60 million, with more than 30 pct. own investment and bank loan for the rest", said Geo Mărgescu, fouder & CEO of Forte Partners.
In the vicinity of The Bridge, Austrian CA Immo announced on Monday the appointment of PORR Construct as general contractor for the new office project Orhideea Towers. The project represents a total investment of EUR 75 million and is scheduled for delivery in 2017.
Also on the office segment, but in Cluj-Napoca, the investment fund NEPI and the entrepreneur Ovidiu Şandor have announced the launching of the construction works for the third phase of the project, with an area of 18,500 sq. m, an investment of nearly EUR 20 million. The development is taking place on a favorable economic background, as Cluj-Napoca attracts and still offers business development opportunities, mainly in the IT industry.
On the retail segment, nearly half of year before the opening of ParkLake mall, an investment of EUR 180 million, the Austrian S IMMO, owners of Sun Plaza mall, announce an expansion of 11,000 sq. m of the project, investment to be completed in the first quarter of 2018. The Austrian group didn't make public the investment value, but a capital increase of EUR 20 million was made in the end of last year.
Also on the retail segment, Veranda shopping centre, developed by the businessman Florin Pogonaru on the Prodplast platform in Obor area of Bucharest, obtained EUR 25.5 million loan from Raiffeisen Bank and Raiffeisen Bank International for the partial funding of the project, the credit line could be increased up to EUR 28.5 million. Veranda shopping centre, developed by Prodplast Imobiliare in Obo area, will involve a total investment of EUR 60 million, currently being 60 pct. let. The commercial centre is scheduled for completion in the last quarter of 2016. (source: zf.ro)