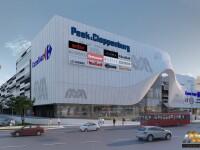 The company ELJ Vatra SRL, the owner of the 5.1 ha land where Mega Mall was constructed and owned 70 pct by NEPI, has problems with the company Reflex Fatade SRL, which asks for its insolvency, according to a file registered on 20th of August in Bucharest Court.
Reflex Fatade is the branch of a company headquartered in London and it is specialized in exterior envelopment of the buildings, according to their website.
Their portfolio in Romania also includes large projects such as Sun Plaza, AFI Mall Ploiesti, AFI Office Park 1, Novo Park, West Gate and Orhideea Gardens.
The first term is set on 26th of October 2015.
Two years ago, the South-African fund New Europe Property Investments (NEPI), one of the most active investors on the real estate market in Romania in the last years, took over the 70 pct of the company which develops Mega Mall project.
"New Europe Property Investments group signed an agreement with Real 4 You from Austria, for the acquisition of a share of 70 pct in ELJ Vatra SRL, the company registered in Romania which owns the land Electroaparataj, where a new commercial centre will be built, Mega Mall", shows a press release of NEPI at that date.
Mega Mall, the giant project developed by NEPI on the former Electroaparataj platform in Pantelimon neighbourhood of Bucharest, was inaugurated still unfinished on May 14th. (source: dailybusiness.ro)