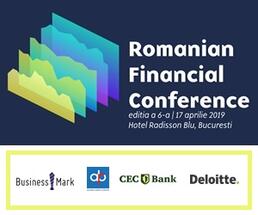 The event will discuss issues related to: legislative changes with impact on the banking system, the general perspectives of the Romanian economy and the influence in the financial sector, what changes bring to the financial world PSD2, FinTech opportunities, the importance of innovation in the financial sector, digitization and innovation as a basis for defining the relationship with the new consumer, credit issues in 2019, the instant payment system, the impact of BREXIT on the national economy, M & A issues in the financial sector, the evolution of the non-banking financial sector, aspects of insurance and leasing markets, financial sector security, blockchain future etc.
Speakers:
SERGIU OPRESCU,
President of the Romanian Association of Banks, Executive Chairman, Alpha Bank
RADU GRAȚIAN GHEȚEA
, Chairman of the Board of Directors of CEC Bank, Honorary President, Romanian Association of Banks
DANA DIMA (DEMETRIAN),
Executive Vice President of Retail and Private Banking, Member of the Executive Committee, BCR
BRUNO LEROUX,
Chief Executive Officer, CETELEM - BNP Paribas Personal Finance
FLORIN DĂNESCU,
Executive President, Romanian Banking Association
ALEXANDRA SMEDOIU,
Tax Partner, Deloitte
GABRIELA FOLCUȚ,
Executive Director, Romanian Banking Association
ALEXANDRU D.CIUNCAN,
General Manager, UNSAR - National Union of Insurance and Reinsurance Companies in Romania
MIHAI PURCĂREA,
General Manager BRD Asset Management, Member of Board of Directors Association of Fund Managers - A.A.F.
DOREL DUȚĂ,
President, UNSICAR - National Union of Intermediation and Insurance Consulting Companies in Romania
DANIEL NICOLESCU,
Managing Partner & Co-Founder, SymphoPay
ALIN IFTEMI,
Chief Technology Officer , Modex (Gibraltar)
ADRIAN CIGHI,
Co-Founder, Pago
They will address the main topics of discussion.
More details about the Romanian Financial Conference conference and how to sign up can be found here.
Event organized by BusinessMark, supported by: CEC Bank, Deloitte, Asociația Română a Băncilor.